Phase 2 Progress Report
The Flyway Trail Board is involved in moving Phase 2 forward. The most recent report from the engineering firm SEH shows that we are making strides toward a May 2024 construction start date.Twenty two documents are in various stages of approval by state agencies and the railroad that owns the tracks in Marshland.
The construction is expected to take 3 months, so hopefully we will all be celebrating the completion at the end of August 2024. Your donations have been used to finance some of the things the grants do not cover so that the project can move forward. We are extremely grateful for your support and take our responsibility on the board seriously. Phase 1 had it's challenges and Phase 2 will also …but we will get it done!
We are also exploring grants to blacktop the trail. Our ongoing problems with erosion on the trail after heavy rains make the idea of blacktop very appealing. Trail maintenance is important and we monitor the trail frequently. The sides of the trail will be mowed soon.
Our next Flyway Trail Meeting is July 20th at 5:30 at the Buffalo Town Hall. Anyone who would like more information is encouraged to attend. We are always looking for anyone interested in serving on the board.
The new signage marks the way.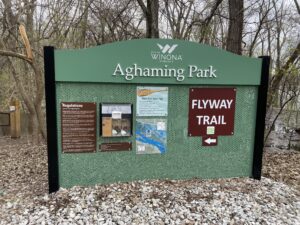 TAKE PART IN YOUR COMMUNITY – YOU'LL ENJOY IT!