---
Please join us at our launch event for The Bridging the Bluffs Campaign. Learn more about the project, how much we've raised to date, and how you can help bring the vision of The Flyway Trail to life. You can register here: https://www.signupgenius.com/go/9040f4aabad22abfa7-launch
WE HOPE YOU WILL CONSIDER MAKING A GIFT
     PLEDGE FORM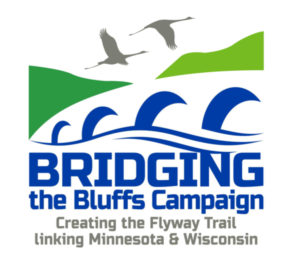 TAKE PART IN YOUR COMMUNITY – YOU'LL ENJOY IT!
DONORS OVER THE WI & MN AREA
WHAT OUR DONORS ARE SAYING
"
As a local company, we strive to help better the community. No better way to do that than with an organization like this.
Bob
"
Being part of a community-driven startup is not something you find everyday. Thank you to the Flyway Trail team for letting us join this unbelievable mission!
Sarah
"
This project will be the talk of the country. What a cool statement to make about the Buffalo County area. I couldn't wait to participate!
Matthew
FUN POSTS TO KEEP YOU ACTIVE!
HELP US PAVE THE PATH TO VICTORY
Let's make this area stand out by building a revolutionary trail
that connects two great states and shows the world what the
power of community can do. Ready to claim your part?